FRESH EGO KID
Alex Jay Scott
Behind the Scenes with AFC Bournemouth midfielder Alex Jay Scott. In an exclusive interview, Alex opened up about his grassroots football experiences and his eagerness to make his mark in the Premier League. He also shared his thoughts on the evolving relationship between football and fashion.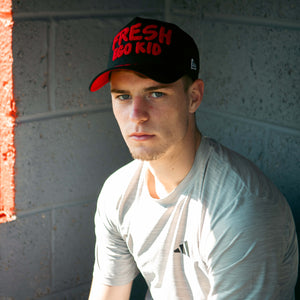 Q: How do you think the relationship between football and fashion is changing?
A: I think it's becoming bigger and bigger every season now. You see teams like Barcelona who are now wearing their own gear on a match day and also how different players are expressing themselves off the pitch.
Q: Tell us about your experience with Grassroots football. 
A: I only have great memories with grass roots football , especially after being released from Southampton. I found that love for football again and it really gave me that confidence back to push on and eventually move back into the academy system at Bristol City.
Q: How excited are you to be playing in the Premier League?
A: I can't wait to get going and make my debut. It's been a tough few months with the injury but i'm so happy to be here at Bournemouth now. I'm making sure i do everything right to improve now so i'll be as ready as I can be to play at this level.